Another topic I get asked about a lot is my hair...
My hairdresser tells me that I have fine hair but quite a lot of it, which unfortunately for me, means my hair often looks quite 'lank' and flat if left natural.
I also have the added trouble that I do have bleached highlights, which makes my hair quite dry, especially on the ends...
So when I am looking for hair products I tend to look out for products which will combat these issues!
Lets start in the shower...
At the moment I have been using the John Frieda Luxurious Volume Shampoo followed by the John Frieda Go Blonder Conditioner.
The shampoo seems to do the job, there isn't really much you can say about shampoo, it claims to remove any products in your hair that could weigh it down, but to be honest I think most good shampoos do that!
I only tend to wash my hair once every 2/3 days because it is quite long and it doesn't really need washing more often than that! I would always say try to leave as long as possible between washing your hair because excessive washing strips your hair of natural oils, this in turn can make your scalp produce more oils to compensate for this loss, thus creating a need to wash your hair more often... it's a vicious cycle! Ha! Playing/messing with your hair can also make it greasier faster, as oils from your hands are transferred to your hair.
I heard a lot of bad reviews about the Go Blonder range, with people having reactions to the products, I have only ever tried the conditioner, but I haven't had any problems at all! However, I wouldn't say that it makes my hair any blonder, but it does give it a little bit of a lift and shine when the colour is starting to look dull!
I tend to pop the conditioner on, just on my mid lengths and ends (as you don't want greasy roots), leave it on whilst I wash my face, body etc.. Then wash it off so that it has had a good 5-10 mins on my hair! This seems to add a little bit more moisture and my hair feels lovely and soft after, so I would definitely recommend doing this particularly if you have dry/damaged hair!
To give my hair an extra treat every now and again I will use a hair mask... I have 2 types that I tend to alternate between...
My Charles Worthington Intense Rescue Balm which you put on your hair when it is dry before you have a shower, when warmed up in your hands the balm turns into an oily consistency which I apply to my mid lengths and ends, I then leave this on for a good 15 minutes before washing it out in the shower!
The second hair mask that I use is the Tresemme Deep Conditioning Mask (for dry, brittle hair), which is applied to wet hair after shampooing, again I just put it on the mid lengths and ends and leave it on for around 5 mins before washing out.
I prefer the Charles Worthington Balm if I'm being honest, but the Tresemme hair masks are a great cheaper alternative and they do a range of masks for different hair types! Or if you are on a strict budget just use your conditioner as a mask, put a good amount on the mid lengths and ends making sure you fully coat the hair and leave it on for around 10 mins... this is the next best thing to a mask treatment in my opinion!
When out of the shower I squeeze any excess water out of my hair with a towel, I never 'rub' the hair as it can cause breakage or damage the hair if you do it too vigorously!
Next I apply hair oil to the mid lengths and ends of my hair and brush through with a Tangle Teaser, these are great as they remove knots from without pulling or dragging the hair... It has saved me a lot of teeth grinding and jaw clenching since purchasing one!!
Hair oils are a relatively new concept in the haircare world, and they are generally used as an alternative to leave in conditioners, I think they scare most people off with the word 'oil' but to be honest I find them more like a super hydrating serum! They really do improve the condition of your hair leaving your hair soft, smooth and shiny! Although you do have to be careful not to use too much, as only a small amount is needed!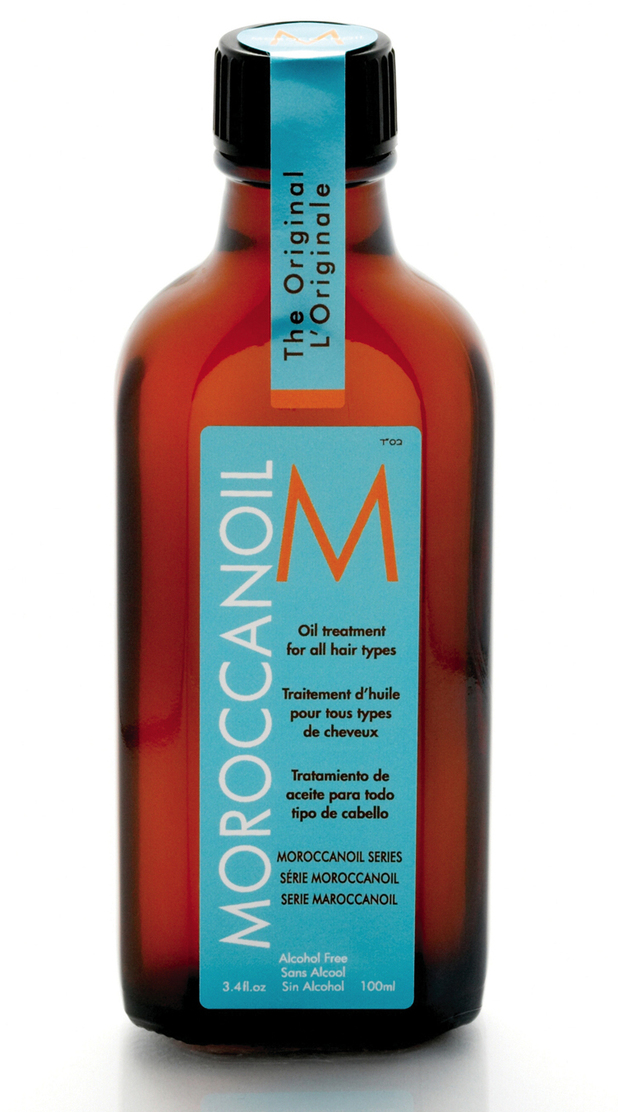 The two hair oils that I use are, Moroccan Oil and Macademia Oil, these are amazing! However, both are quite expensive and I have noticed that a lot of drugstore brands have now brought out their own versions! So when I have used these two up I will definitely be trying some cheaper alternatives... I have heard a lot of good things about the new

Tresemme Liquid Gold Argan Oil

, so i think this will be next on my hair oil shopping list!!
If i'm not going anywhere exciting I generally just leave my hair to dry naturally after this... so that I am not putting unnecessary heat or products on my hair...
But if I am going out or want my hair to look extra nice I will use John Frieda Volumising Blow Dry Spray or some other volumising mousse/product and blow dry my hair with a big round brush before styling, just to give my hair a little more body. These products can leave the hair feeling a little 'stiff' if you know what I mean, but they definitely give your hair that extra OOMPH!
I won't go into hair styling just yet, I will save that for another post, so that I'm not overloading you with information...
A x