There are loads of different ways to do a
'smokey eye'
and a lot of people make the mistake of thinking that it
HAS
to be black or dark... a smokey eye is just a style of makeup, where the eyeshadow is generally blended out from opaque to practically nothing, usually with no harsh lines, creating a gradient of colour... And it can be done in lots of different ways and colours.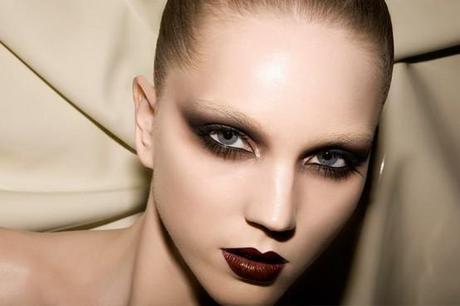 However, I must admit that when I do a smokey eye I do like it to be dark and dramatic!
My two preferred ways are;
Firstly, probably the most common way, the darker colour on the outer corner and in the crease of the eye, with the colour getting lighter towards the inner corner.
Secondly, the more dramatic look, a solid colour across the whole of the eyelid blended up towards the eyebrow.
Some people may want to elongate their eyes and get a feline look by bringing the eyeshadow outwards to a point. Whereas, others may prefer a nice rounded style, the best way to figure out what looks best on you is to just play around with different styles... and practice
always
makes perfect!
How to...
When I am doing a smokey eye I generally like to start by using a kohl eyeliner or a gel/cream liner as a base (I love to use the Maybelline Gel Liner in Black, seriously just as good as MAC Fluidline/ Bobbi Brown Gel Liner), you don't have to do this but it makes the eyeshadow colour more intense and last longer!
dramatic look
I will firstly draw a nice thick line across my upper lash line with the
eyeliner
(or wherever you want the darkest part to be).
It doesn't have to be neat because I immediately blend it upwards across the whole eyelid towards the crease of my eye, using either a blending brush (Just a dense fluffy brush) or my fingers or sometimes both! You have to remember to work quickly as most eyeliners dry or 'set' in less than a minute which means you wont be able to
blend
it, so I do one eye at a time.
Next, I take the
eyeshadow
colour I have chosen to use and
press
this on top of the eyeliner base using a flat eyeshadow brush, I press the eyeshadow on to get a more intense and even distribution of colour. Next I take a clean blending brush and start
blending
the edges of the eyeshadow out to get a nice gradient of colour, instead of a harsh line, I then repeat the same process again to make sure the eyelid is nice and dark.
Bear in mind that it may take a while to achieve the desired look, just keep applying and blending until your happy.
When you are happy with the result you can
clean up
any mess you've made around the eyes with cotton pads or buds and eye makeup remover, then apply concealer to neaten up, you definitely don't want any black smudges under your eyes. Then, take the brushes you used to do the eye makeup and run a small amount of the same products under the eyes along the lash line to add
definition
, remember to also blend this to keep that smokey look.
Next, I like to
highlight
the inner corner of my eye and my brow bone using a light, shimmery eyeshadow on a small eyeshadow brush. And when i'm feeling like I need to look extra special I like to add glitter on top to finish it off.
Finally, add LOTS of
mascara
on the top and bottom lashes, I also like to curl mine using eyelash curlers, beforehand. And finish with some
false eyelashes
, personally I prefer the more natural looking ones so that the eyes don't look massively over-powering, but each to their own! And Voila beautiful
smokey eyes
!
As a finishing touch I also like to blend a bit of blusher or a warm brown colour just above my crease just to help the black blend into the skin better.
If you are after a more
subtle look
I would probably just use a concealer or a primer as a base, or even a lighter colour eyeliner, depending on the look you want to go for. I tend to choose at least 3 colours to use, a light colour to highlight, a dark colour for the contour and a sort of 'middle' colour.
I would start by putting the middle colour across the whole eyelid up to the crease of the eye, then blend the edges of this colour so that there are no lines where the colour finishes. Next take the lightest colour in the inner corner of the eye and under the brow bone.
To add depth and smokiness take the darkest colour and press it onto the outer 3rd of the eyelid and into the crease, then blend this up and outwards so that it is nicely blended into the other colour.
You may need to add more of the darkest colour into the crease to achieve the desired depth and darkness, as when you blend it can take away some of the colour payoff.
Next, clean up under the eyes and apply concealer, then take some of the darker colour under outer portion of the eyes about 2/3rds of the way along, keeping close to the lash line, and blend this.
Again, you could apply some glitter or shimmer to the centre of the eyelid to add some dimension and really make them stand out.
Finally, to complete the eyes; curl, mascara and maybe eyeliner & false eyelashes!
Another
tip
is to apply kohl liner in the waterline, I use a flesh/light coloured eyeliner if I want my eyes to look bigger and more open, and a black or dark colour eyeliner if I want a sultry cat eye look.
Basically the
key
to smokey eyes is to layer and blend... then blend some more!
The Real Techinques Eyes Starter Set
is a good one to start out with as it has all the basic brushes to create a nice eye makeup - a base shadow brush to lay down your colour with, a crease blush to blend the edges, and accent brush to apply eyeshadow under the eyes or in the inner corners, an eyeliner brush and a brow brush.... and it is relatively cheap in comparison to many other brands (£21.99 from Boots)! I use these brushes everyday and still have not found any faults!
Also
Crown Brush
do some great brushes, particularly the HD set which is my absolute fav!
A x